Kieron Gillen writes about the game press and how you can game them to get your game covered and loved by the press.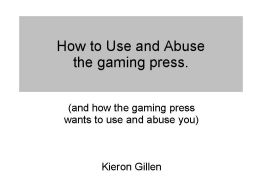 It is a remarkable summary (although in many entertainingly well-written words) of how you, as Indie Game Developer, can get your game in the press. They'll love you for it. Use your power as an independent mind. Don't let the press believe one second that you're just trying to copy good PR as it's done in the big houses. Be personally invested. Be opinionated. And contact the right people.
That would be my summary but of course, i have no idea. Never done it before. But i'll certainly remember that article when i have to.